Griffin O'Neal Pleads Not Guilty To Drug Charges As Brother Redmond Admits To Using Again!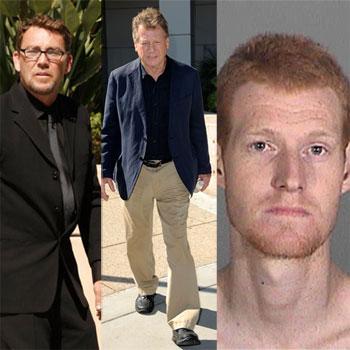 Griffin O'Neal pleaded not guilty on Thursday to six felony and misdemeanor counts, including driving under the influence causing injury, possession of a firearm by a felon and possession of a controlled substance.
It all came down in a San Diego, Calif. court less than 24 hours before his half brother, Redmond, admitted to a Los Angeles judge that he'd used drugs while on probation for drug convictions!
Article continues below advertisement
Griffin, 46, was under the influence of drugs Aug. 2, when he careened into oncoming traffic and hit another car, injuring the other driver, Deputy District Attorney Vanessa DuVall told the judge.
Evidence was introduced that O'Neal had amphetamines, cocaine, marijuana and Xanax in his system, and that rock cocaine and weapons were found in his car. Making matters worse, Ryan O'Neal's oldest son was on probation for a previous DUI at the time of the crash.
Heather Boxeth, O'Neal's attorney, revealed that her client has a painful bone disease and on the day of his accident had been trying to reach his half-brother Redmond who had "relapsed again."
Redmond, 26, whose mother was the late Farrah Fawcett, was arrested in Santa Monica the same day as Griffin's crash after cops found heroin in his car during a traffic stop.
As RadarOnline.com reported, Redmond admitted in court on Friday that he'd begun using drugs again, despite being on felony probation.