Real Or Fake? Stars Show Off Their Awesome Assets In Bikinis!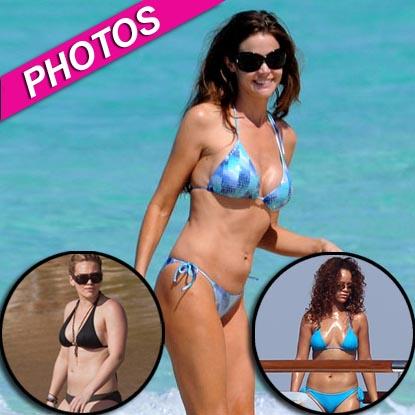 RadarOnline.com Style & Beauty Editor
Real or fake, these sexy stars steam up the shoreline with their bombshell bosoms, but only a few have admitted getting a little plastic surgery action!
RadarOnline.com has photos of Hollywood stars with the most talked-about top-halves, flaunting their amazingly awesome assets in barely there bikinis. Whose are real, fake and who refuses to comment? You can only find out here!
Article continues below advertisement
As Lindsay Lohan blew up in Hollywood, so did her bust size! The child actress turned bikini bad girl definitely grew up in the spotlight, but is her bombshell bosom a product of coming-of-age or something she charged on her American Express card?
Christina Hendricks' oversized assets are more talked about on the red carpet than her designer duds. The Mad Men star has no problem dishing on her mammary glands, but has she ever implied that they weren't a gift from mother nature?
MORE ON:
christina hendricks
And Ashlee Simpson has admitted to enlisting the help of a plastic surgeon, but was it for her boobs?
To find out what stars have spilled the plastic surgery beans and what stars sweat the natural authenticity of their assets, click here.