Exclusive
Olivia Munn Reveals Her Fitness Secret: Drunken Dancing!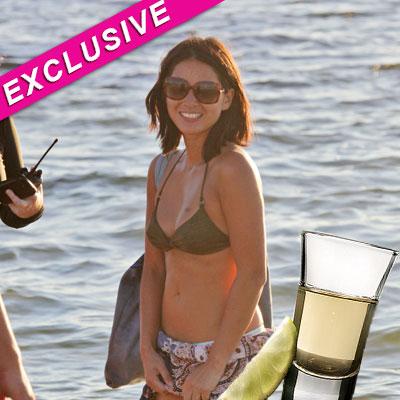 While most celebrities boast of their vigorous fitness regimes and die hard diets, Olivia Munn has revealed the secret to her super slim figure... drunken dancing.
Speaking to Radaronline.com at the Shape magazine 30th birthday bash at Wet, W Los Angeles' iconic outdoor pool, Munn - who features on the October issue of the fitness publication - admitted a few home truths about her regime.
Article continues below advertisement
"It seems weird but I drink," she said. "I drink when I work out. I literally hate working out.
"My friends ask me if I want to go hiking up Runyon Canyon in Los Angeles and I'm like, 'Why? I have the new Kinect. Why would you want to go outside? Why would you like to climb up a mountain?
"I really do drink when I work out. I have to trick myself into thinking I'm doing something fun."
The 31-year-old admits she isn't as toned as she would like to be but says its a choice she has made and is happy to live with.
"Of course everyone wants to look their best and I do try, but my best isn't the best of what some people see the standard of beauty to be.
"I have real lips and more boobs and more hips and if that perpetuates a new form of beauty then that is great.
"I wouldn't run if there was a fire. I wouldn't run anywhere. I hate running. I know I'm curvier - I know I'm small, but I'm not ripped. But I make a choice to be that way. I realize my arms aren't as toned as Halle Berry's but I don't want them to be."
Article continues below advertisement
In fact Munn has made her own workout routine which combines exercise, drinking and comedy.
"I came up with this thing and its a dance routine. Its a 45 minute play list which I do three to four times a week with my girlfriends. They aren't really aerobic dance routines but we just keep moving and the dances always have a female empowerment theme.
"One is called, 'My boyfriend just walked in'. So the music will be playing and you will be dancing casually and all of a sudden you see him and you get crazy and you dance your ass off.
"Then there is the 'One night stand'. Its good for your core. You will be lying on your back and you will want to sit up without waking him. So you have to really carefully lift yourself without any sudden movements and then you have to walk on out of there.
"We basically don't stop moving for 45 minutes. We also do this thing instead of doing the Grapevine. We set up two posts or tables and we have our day drinks - mine is Tequila, pineapple juice and lime. We do the 'Dayvine' and do it in one direction and get to our post and drink and then we go the other way.