Mother Charged With Rape Of 13-Year-Old Boy Arrested Again For Sending Love Note In A Burrito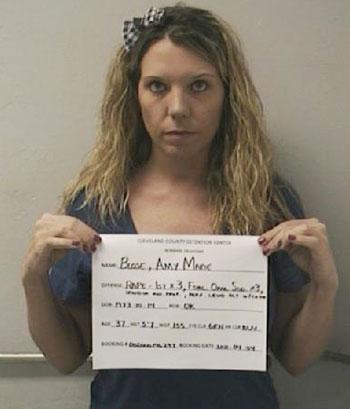 An Oklahoma woman, who was arrested and charged with rape and multiple other offenses stemming from an alleged sexual relationship with a 13-year-old boy, is back behind bars after she attempted to contact him via a love note tucked inside of the wrapper of a breakfast burrito – and RadarOnline.com has the details.
In April 2011, 37-year-old nurse Amy Blose was arrested and charged with three counts of rape in first degree, three counts of forcible oral sodomy, one count of lewd or indecent acts to a child under 16, and one count of performing lewd acts in the presence of a child under 16.
Article continues below advertisement
Released after posting bail, the wife and mother was instructed not to have contact with anyone under the age of 18.
According to KFOR Oklahoma City, Blose picked up some kids for school one morning, stopping at a local Sonic to pick up a breakfast burrito.
She wrote a love note that said "Hey Babe, I love you forever" and placed it inside of the wrapper. She then asked one of the teens in the car, a 15-year-old girl, to deliver the burrito to the victim.