Jacksons Arrive In UK For Michael-Themed Tribute Show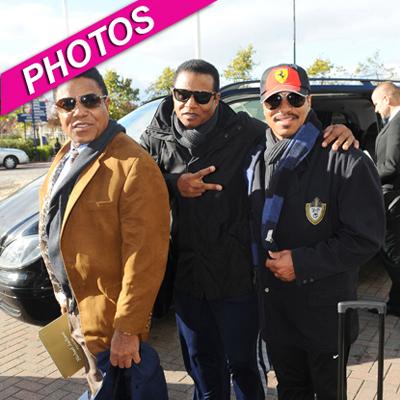 Can you feel it, can you feel it, can you feel it?
Michael Jackson's siblings LaToya, Tito, Jackie and Marlon Jackson were all smiles as they were snapped arriving in Cardiff, Wales on Friday, and RadarOnline.com has the pics.
The family -- who attended the trial of their brother's former doctor, Dr. Conrad Murray, in Los Angeles last week -- are in the United Kingdom for a tribute concert to the King of Pop that will happen Saturday at Cardiff's Millennium stadium.
Article continues below advertisement
In a statement, Katherine Jackson said: "I am greatly honored with much appreciation toward the generosity that Global Live Events has shown by planning this tribute event on behalf of my late son, Michael…
"I will be there along with as many members of my family that are available. I am positive that this event will be an event great enough in scale, talent and imagination to form a worthy celebration of Michael's life. It is intended to be the biggest, and the best concert event in the world for many years to come. This is how Michael would have wanted it and I am sure it will be exactly that.
"Thank you WORLD for your LOVE and SUPPORT! I'll see you on October 8th, 2011!"
More than 40,000 tickets have been sold to the show, and another 10,000 remain. Organizers told the BBC they believe the show will be sold out before it begins.
Among the performers slated to perform include The Voice's Christina Aguilera and Cee Lo Green, Smokey Robinson and Beyonce (via video link).
RELATED STORIES:
Dr. Conrad Murray Professes Love For Michael Jackson During Audiotape Interview With Cops