Hung Star Thomas Jane Admits To Turning Gay Tricks As A Homeless Teen Actor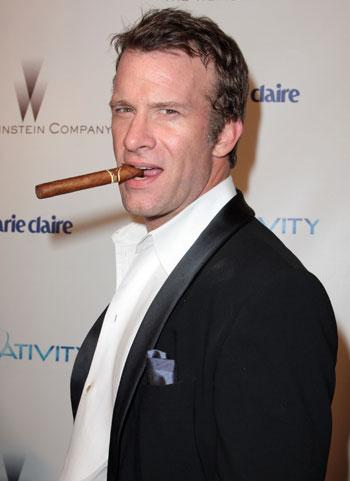 Thomas Jane's fictional character in HBO's Hung moonlights as a male prostitute, and now the actor has revealed that he experimented in the sex industry too when he was a struggling teenage actor, RadarOnline.com has learned.
"When I was a kid out here in L.A., I was homeless, I didn't have any money and I was living in my car. I was 18. I wasn't averse to going down to Santa Monica Boulevard and letting a guy buy me a sandwich. Know what I mean?" said Jane in an interview with the L.A. Times, referring to the predominately homosexual Los Angeles enclave of West Hollywood.
Article continues below advertisement
"Hey, you grow up as an artist in a big city, as James Dean said, you're going to have one arm tied behind your back if you don't accept people's sexual flavors," Jane explained, comparing his pre-fame money making attempts to that of another Hollywood heart throb.
"You're a lot more open to experimentation as a young man. And for me, being a young artist and broke in Los Angeles, I was exploring my sexual identity," Jane went on to say.
"And probably because of my middle-class, white blue-collar upbringing, I would have never had the opportunity to confront some of my own fears and prejudices had I not been hungry enough to be forced to challenge myself in that way."
The remarkably candid confession from the actor came in response to backlash he had gotten from the gay media over a previous interview.
"I think they took my comment that it would be the last year of the show when I ended up with a (penis) in my mouth, think they took that comment to be anti-gay. And then I got a chance to explain myself a little further, and I think people respected the explanation that I gave," he told the L.A. Times.
Article continues below advertisement
The 42-year-old actor, who will next be seen in the Demi Moore comedy LOL: Laughing Out Loud, said his homosexual experiences definitely broadened his horizons.
"It blew the doors off of my conventional upbringing and thinking and opened up possibilities for me that were akin to World War III.
"And then you actually have a choice, and I chose to be a heterosexual guy because that's what my DNA dictates and my nurture dictates that I am," said Jane, whose divorce from actress Patricia Arquette was finalized in June despite the couple's attempts at reconciliation.
No doubt in fear of causing even further confusion and outrage, Jane went on to explain his last statement.
"I think up to a point it's a choice. But I'll tell you what — it's not a choice until you're open enough to experience both male and female sexuality. Until you've tasted the food, you don't know whether you'll like it or not, as my mom always said."
In Hung, Jane plays struggling high school teacher and coach Ray Drecker who branches out into male prostitution after being hit hard by the recession.