Exclusive
MLB All-Star Howie Kendrick Makes 8-Year-Old Boy Cry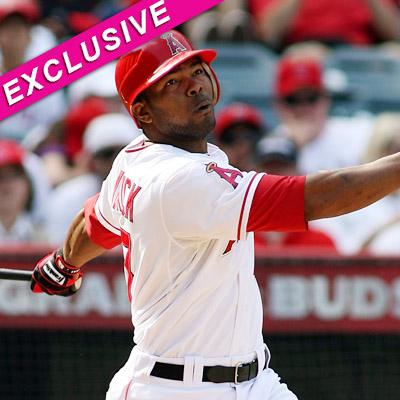 By Amber Goodhand - RadarOnline.com Reporter
Anaheim Angels all-star Howie Kendrick refused to sign a baseball card for an eight-year-old boy and made him cry, RadarOnline.com has exclusively learned.
According to an Orange County woman, Kendrick moved into her neighborhood for the duration of the Angels season and last month her son asked him for an autograph and was denied, leaving him in tears.
"Howie and his family had been living next door all season and we had been respectful and had not bothered him or his family until the morning he was packing to move," the woman, who wishes to remain anonymous to protect her family told RadarOnline.com in an exclusive interview.
Article continues below advertisement
"My eight-year-old son, who is a huge Angels fan, walked down and asked if he would sign his baseball card before he left. Howie refused saying, 'It's not going to happen' and that we were rude for asking."
The mother claims that Howie's wife Jody then came out of the house and said, "I can't believe you're still standing here. This is really rude and it's not going to happen. It's sad that you're still standing here."
"They made my son cry so I said, 'No, what's sad is that you're supposed to be a representative of the Angels baseball organization. In the amount of time it has taken for you to refuse an eight-year-old asking for an autograph, you could have signed 20,'" She said.
"Instead of making my sons day, they made him cry."
After the young boy went home crying, his father drove by Howie's house and said out his car window, "I hope that makes you feel good, making my eight-year-old son cry. You have kids too, I would think you would never want someone to do that to them."
Article continues below advertisement
"Have a nice day," Howie yelled and walked away, the couple claim.
Neighbors living nearby also expressed distaste for the 28-year-old Angels player saying he never once said hi or waved to anyone on the street.
An outside family member of the boys then took to Twitter, blasting the baseball star for making her cousin cry to which he tweeted back, "I guess when people demand you sign and show up with camera in hand I'm supposed to jump. No respect guess it runs in your fam."