Exclusive
MLB Star Howie Kendrick Apologizes For Making Boy Cry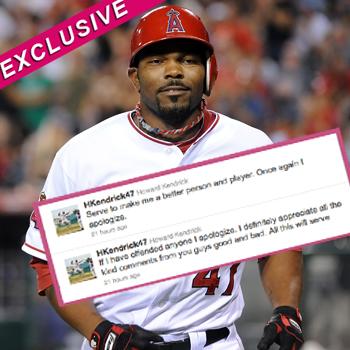 By Amber Goodhand - RadarOnline.com Reporter
Anaheim Angels all-star Howie Kendrick has apologized for making an eight-year-old boy cry, RadarOnline.com is exclusively reporting.
"If I have offended anyone I apologize. I definitely appreciate all the kind comments from you guys good and bad," Howie tweeted Wednesday evening.
"All this will serve to make me a better person and player."
As RadarOnline.com was first to report, Howie moved into an Orange County neighborhood for the duration of his season with the Angels and on the day he was moving out, an eight-year-old boy living just two doors down stopped by Howie's house with a baseball card and asked his favorite player to sign it.
Article continues below advertisement
According to the boys family, Howie refused and his wife Jody came out and said, "This is really rude and it's not going to happen. It's sad that you're still standing here."
"Howie made my son cry so I said, 'No, what's sad is that you're supposed to be a representative of the Angels baseball organization. In the amount of time it has taken for you to refuse an eight-year-old asking for an autograph, you could have signed 20,'" the boy's mother, who wishes to remain anonymous to protect her family, told RadarOnline.com.