Eddie Cibrian Rushed To Hospital After Injury On The Set Of Canceled Playboy Club Show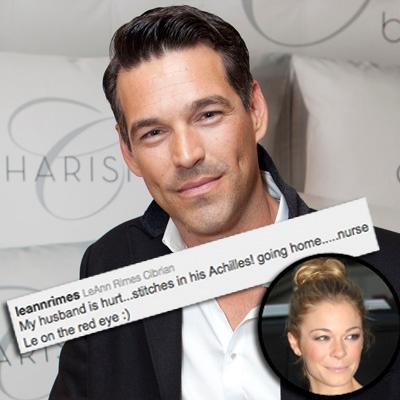 Actor Eddie Cibrian was taken to the hospital on Tuesday night after suffering a leg injury while filming The Playboy Club in Chicago, RadarOnline.com has learned.
Ironically, he was injured on the same day it was announced that the NBC period drama was cancelled due to poor ratings.
LeAnn Rimes' husband hurt his right heel while running down an alley on the show's set and was taken to the Northwestern Memorial Hospital for treatment, reported the Chicago Sun-Times.
Article continues below advertisement
The 38-year-old received a deep gash on his heel after it got caught underneath a 200-pound steel door, a source said.
the show's production company plans to continue filming until October 10 in the hope that another network will pick it up.
As always, country singer LeAnn was quick to take to Twitter to update her followers on the news.
"My husband is hurt...stitches in his Achilles! going home.....nurse Le on the red eye :)" she tweeted late on Tuesday, and went on to give details about his condition.
"running down stairs... It's not pretty...he is (OK).... but he's messed up," and when asked by a follower if he was on crutches she replied: "no just HUGE stitches....when it rains it pours, but that means NOTHING but bed tmrw ;)"
It's been raining cats and dogs for the married couple!
The 10 Most Buzzed-About Bikini Bodies!
Along with the news that her now hobbling husband may soon be out of a job, RadarOnline.com was the first to report that a 20-year-old man who appeared to be driving under the influence plowed through the fence of Rimes' home in Hidden Hills, Calif. early Monday morning.
Article continues below advertisement
Luckily LeAnn was in North Carolina at the time of the accident but tweeted her reaction later that day.
"To address the accident that happened in front of our home this morning, everyone is ok and safe. However, if drunk driving was involved it is terribly sad," the 29-year-old tweeted on Monday afternoon.
LeAnn Rimes: Speculation About My Weight 'Seems Like Bullying Now'
"My family could have been seriously injured and any situation where someone is drinking and driving should not be taken lightly. Needless to say, it was a very unsettling call to receive this morning."
The 29-year-old singer has now flown to Chicago to nurse Cibrian back to health, but even that journey did not go smoothly for her, as she revealed on Twitter Wednesday morning.
"It's too early or too late or something.....wow, red eye's are horrible. Going home to snuggle now."
RELATED STORIES:
LeAnn Rimes: 'I'd Really Love To Have A Child' With Eddie Cibrian