Conrad Murray Trial Recap: ER Doc Said Michael Jackson Was 'Clinically Dead' On Arrival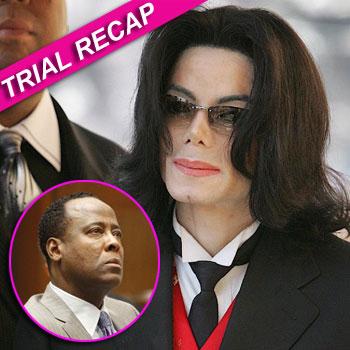 By Jen Heger - RadarOnline.com Legal Editor
Dr. Rochelle Cooper, the emergency room doctor that treated Michael Jackson when he arrived at the Ronald Reagan UCLA Medical Center, on June 25, 2009, told jurors on Friday that the pop star was "clinically dead," but that she still attempted to save his life.
The ER doctor testified that she asked Dr. Conrad Murray what medications he had given Jackson, and he told her that he had only given 4 milligrams of Lorazepam, and that Jackson had been suffering from dehydration. At no point, according to Dr. Cooper, did Dr. Murray admit that he had given Propofol to the King of Pop.
Article continues below advertisement
Paramedic Martin Blount also took the stand in Dr. Murray's involuntary manslaughter trial, and testified that when he arrived at Jackson's house, Dr. Murray appeared "agitated" and asked "for help."
Richard Senneff, who was the first paramedic on the scene, testified that Murray claimed to have called emergency services as soon as he discovered Jackson, but the prosecution maintain that there was a twenty minute delay before the doctor made the call.
Senneff said that Jackson was "flatlined" and appeared dead when rescuers arrived at his house, and he said that at no time during the 42 minutes he was with him did he see any signs of life in the 50-year-old star.
According to Friday's testimony, Dr. Murray never told the paramedics about the Propofol that he had given to Jackson. Senneff stated that once Michael Jackson was put in the ambulance, he observed Dr. Murray in the bedroom putting bottles in bags.
Article continues below advertisement
Judge Michael Pastor issued a gag order to all attorneys in the case. Pastor didn't explain why he issued the order, but he did order Matt Alford, a lawyer who is partners with Dr. Murray's lead attorney, Ed Chernoff to return to court. Alford appeared on The Today Show on Friday and said that the jury was smart enough to know prosecutors haven't proven their case.
At the end of a shocking day's revelations, Judge Pastor ordered the jurors to have "a great weekend, and that is an order," which was met with appropriate agreement.