RADAR LIVE: Michael Jackson Death Trial: Talkback, News & Opinion Live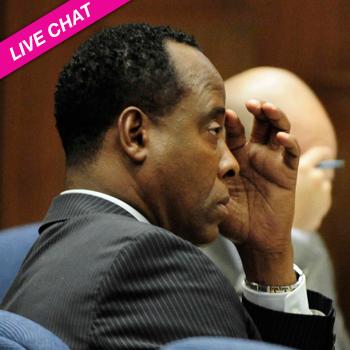 Tom Mesereau will join RadarOnline.com Live to discuss developments in Michael Jackson's death trial.
Dr. Conrad Murray broke down in tears as his patients took the stand on Wednesday morning and described the embattled cardiologist as caring, and an excellent doctor.
RadarOnline.com will be broadcasting a LIVE podcast at 12:30 p.m. PT/3:30 p.m. ET to provide up-to-the minute news, analysis and commentary about what's been dubbed the Trial of the Century -- the People Vs. Dr. Conrad Murray.
Article continues below advertisement
RadarOnline.com Legal Editor Jen Heger will be joined by Star's Senior Executive Editor Dylan Howard for RadarOnline.com LIVE.
You too can take a stand on the issues discussed by our panel as we take your calls about the trial, as all the drama unfolds.
Want to be on air? Call (877) 604-2496 during the show!
Listen to internet radio with radaronline on Blog Talk Radio
RELATED STORIES: