RADAR LIVE: Michael Jackson Death Trial — Talkback, News & Opinion Live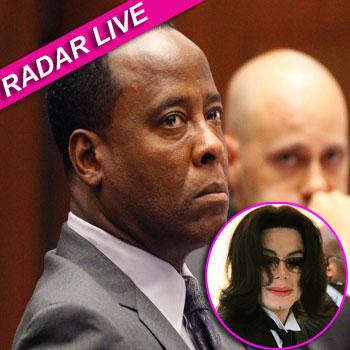 RadarOnline.com will be broadcasting a LIVE pod-cast Thursday at 12:30 p.m. PT/3:30 p.m. ET to provide up-to-the minute news, analysis and commentary about what's been dubbed the Trial of the Century -- the People Vs. Dr. Conrad Murray.
Dr. Murray's lead defense attorney, Ed Chernoff grilled coroner investigator Elissa Fleak Thursday morning about notes she took on the Michael Jackson death investigation. Fleak asserted that Michael Jackson's house was left unsecured for several days, stating that the house "was left open."
Article continues below advertisement
Chernoff pointed out to Fleak that she didn't note that she had found a bottle of propofol inside an IV bag until March 2011, almost two years after Michael Jackson's death.
New York Times best selling author, Ian Halperin, David Perel, Editor-In-Chief of Star Magazine & Executive Vice President of RadarOnline.com, and MJ 4 Justice founder, Erin Jacobs, will be the featured guests.
RadarOnline.com Legal Editor Jen Heger will be joined by Star's Senior Executive Editor Dylan Howard for RadarOnline.com LIVE.
MORE ON:
Celebrity Justice