The Biggest Bikini Boob Blunders On The Beach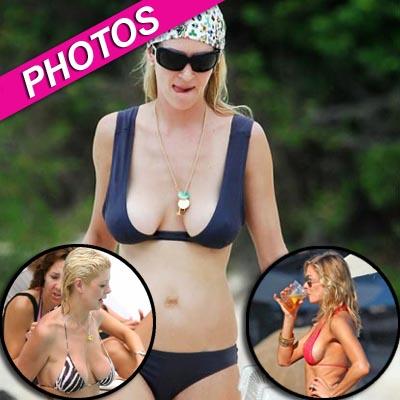 RadarOnline.com Style & Beauty Editor
Even with the help of expensive stylists and unlimited beach season budgets, some celebs still can't find a bathing suit that fits!
From too small tops that don't cover up their awesome assets to ones that just don't fit right, RadarOnline.com has photos of your favorite celebrities encountering the ten biggest bikini boob blunders on the beach.
Tara Reid underwent expensive plastic surgery to get her bikini boobs larger than life, so you would think she would invest just a few more dollars in a bikini that showed them off to perfection, instead of hanging out of an unsupportive top.
Article continues below advertisement
Be wary of the side-boob! LeAnn Rimes showed off some creative cleavage in a red hot bikini, after taking a dip in the Pacific, while Uma Thurman's bizarre top couldn't quite keep her assets up to par.
And we can't well whether Aubrey O'Day's lingerie-style bikini top was too big or too small, but it definitely could keep up with her enlarged mammary glands.
What other sexy stars have experienced boob blunders on the beach? Click here to find out.