Bette Midler Dishes On Sex With Geraldo, 'Nothing To Write Home About'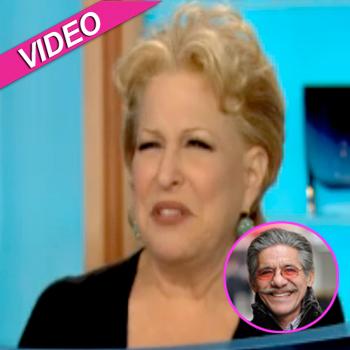 Decades after Bette Midler shared a bed with talk show host Geraldo Rivera, which he wrote about in his 1991 memoir, the legendary actress dished to Joy Behar on Tuesday night that their night together was anything but memorable – and RadarOnline.com has video of the interview.
"I wouldn't write about having sex with Geraldo. Ew!" she disgustedly exclaimed to Behar after being asked by a viewer if she was drunk when she had sex with Geraldo.
Article continues below advertisement
"I had sex with Geraldo but I don't think I would write about it. It was nothing to write home about! It was nothing to write about."
Geraldo opened up about his sexual liaisons in the autobiography, spilling on his sexual encounters with more than 1,000 women. The list included fellow famous females Liza Minnelli, Judy Collins and Chris Evert.
Watch the video on RadarOnline.com below:
RELATED STORIES: