Ben Affleck & Jennifer Garner Having A Boy!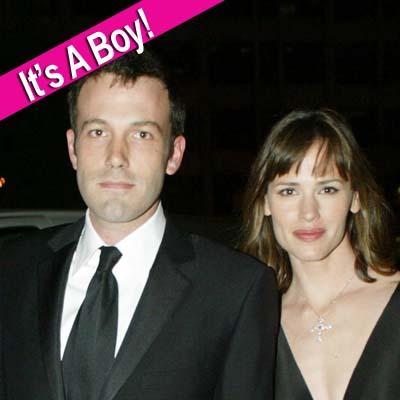 Jennifer Garner is due to have her first son with hubby Ben Affleck, Star magazine has confirmed.
A friend of the family's said Affleck, 39, is elated to have a "little sports buddy" to bring up.
"He can't wait to take his son to baseball games and play catch with him," the insider told Life & Style of Affleck, who's a huge fan of the Boston Red Sox.
The couple has two daughters --Violet, 5, and Seraphina, 2 -- and the insider said that the prospects of getting her first blue nursery ready have Garner a little confused.
Article continues below advertisement
"She feels like she won't know what to do," the insider told the magazine. "She's close to her two sisters, and her instincts were spot-on with the girls. But she never had a brother and doesn't know the drill."
Garner, 39, told Ellen DeGeneres last month her daughters "don't really care about the gender of the baby as much, as long as we name it what they want it to be named."
When she was asked if she wants to have a boy or girl, Garner told DeGeneres she could see the positives in either scenario.
"Everyone says, 'Oh I hope it's a boy,'" the Alias beauty told DeGeneres. "I'm one of three girls, and my little sister is awesome, so I just want a Suzanna ... but obviously we'd be happy either way.
"It would be so weird to have a boy, and cool and different; and I'm sure it would be fun for Ben, he likes baseball and all that stuff ... but a third girl: Three girls is a great way to grow up."