Weatherman Wakes Up In Hot Tub Next To Naked Dead Man Wearing A Dog Collar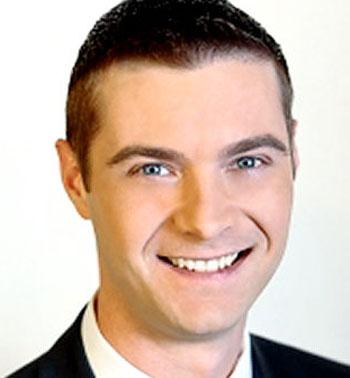 By Amber Goodhand - RadarOnline.com Reporter
Wow, that must have been some party.
A news weatherman woke up in a friend's hot tub next to a naked dead man who was wearing a dog collar after a long night of partying, RadarOnline.com has learned.
DOCUMENT: Read The Police Report
It's a bizarre incident that Maumelle, Arkansas authorities are trying to unravel — involving KARK 4 News meteorologist Brett Cummins and the deceased, Dexter Williams.
Article continues below advertisement
According to the police report, Cummins, 33, brought Williams with him to John Barbour's home on Monday night where the three of them drank and engaged in illicit drug use.
"They then began to drink and use illegal narcotics," Officer Gregory Roussie said Barbour told him. "Mr. Barbour stated he was not sure of the drugs that they were using but that they were snorting them."
Barbour then stated that the three of them shared drinks in the Jacuzzi before he retired to the living room and fell asleep on the couch, leaving Cummins and Williams in the hot tub.
"Dexter's head was lying behind Brett's left shoulder," Barbour told police on the report. "After Brett awoke they discovered that Dexter was not conscious and his face was a different color."
The report states that Cummins was horrified and left Barbour's home, promising to come back later.
"Brett screamed and became ill and left the bathroom and vomited on the carpet in the living room," Barbour said.
Article continues below advertisement
Officer Roussie reported that Cummins came back to the home and gave a statement to investigators.
Roussie stated in the report that they found Williams "lying on his right side in a fetal position, his face was blue and purple in color with a chain around his neck. The chain was silver in color and consistent with what I believed to be a dog collar."
No charges have been filed yet and an autopsy will determine the cause of Williams' death.