Jimmy Kimmel Delivers Tearful Tribute To His Late Uncle Frank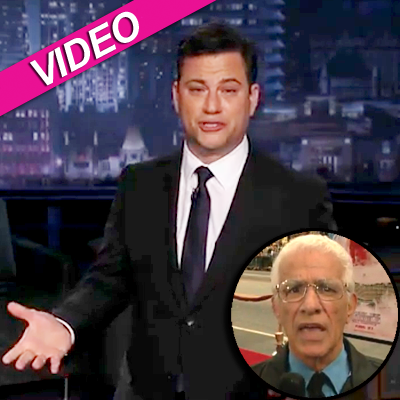 By Adam S. Levy - RadarOnline.com Staff Writer
With a heavy heart, Jimmy Kimmel returned from vacation Tuesday with a beautiful tribute to Frank Potenza, his uncle who died August 20 at 77.
"Listen, I'm gonna try to do this without crying, but I'm probably gonna fail," a teary-eyed Kimmel told his studio audience as he prepared to discuss the death of Uncle Frank, who maintained a steady presence on his show since it hit the air in 2003. "But just turn away or something, because it's embarrassing. It really is."
Article continues below advertisement
Kimmel said his beloved uncle had a "few different kinds of cancer," though doctors are not sure which one caused his death.
"His plan was to live to 103," he said. "He wanted to be oldest living retired police officer in New York City not because he wanted to set a record or be in the paper -- he just wanted to stick them for another 25 years of pension checks.
"Uncle Frank loved being a part of this show," a choked-up Kimmel said. "And I wanna say thanks to my co-workers who talked to him and visited him and picked him up 12 hours early for work.
"He loved you. And thanks to all of you who came to the show and watched, for indulging me and letting me put my crazy uncle on television."
In continuing with the touching memorial, Kimmel presented a montage of Frank's on-air follies set to the tune of Frank Sinatra's "My Way." (Uncle Frank had worked security detail for Ol' Blue Eyes.)
Kimmel's guest Monday was Uncle Frank's favorite, legendary insult comic Don Rickles.
Article continues below advertisement
"I must say, Uncle Frank rest his soul he's watching, but you were magnificent," Rickles told the younger comedian, before exchanging heartfelt stories about Uncle Frank.
On Twitter, a few show biz personalities lent Kimmel kind words on the emotional night.
"My condolences @jimmykimmel," wrote Dwayne Johnson. "I loved Uncle Frank and was blessed to know him. Stay strong brother."
Comedian Jeffrey Ross wrote, "Gonna try not to cry watching the Uncle Frank tribute on @JimmyKimmelLive tonight."
Actress Leah Remini wrote, "Watching sweet Jimmy Kimmel talking about his Uncle Frank who passed. Showing his love for him. R.I.P Uncle Frank. Prayers w, his family."
Potenza, a Korean War veteran, was an officer for the New York City Police Department for 20 years. He also worked as a security guard at Las Vegas' Caesar's Palace and New York's St. Patrick's Cathedral prior to making appearances on his nephew's talk show.
Potenza is survived by three daughters, and a newborn granddaughter named Franki.