Exclusive
Breast Cancer Group Thanks 'Brave' Wanda Sykes For Going Public With Her Battle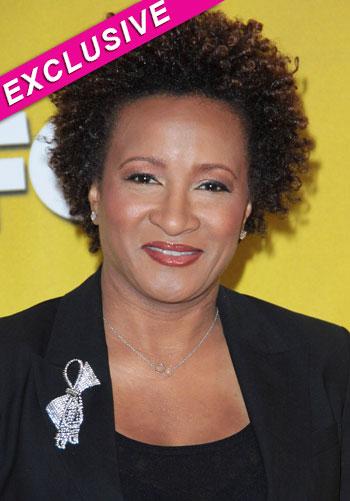 She makes us laugh with her cheeky antics of HBO's monster hit Curb Your Enthusiasm, but now Wanda Sykes is making headlines for a far more serious matter. The 47-year-old just revealed that she was diagnosed with breast cancer and underwent a double mastectomy, in an interview with Ellen DeGeneres, set to air Monday.
Cindy Geoghegan from the Y-Me.Org National Breast Cancer Organization has praised the actress/comedienne for going public with her battle, hailing it as an "act of heroism."
Article continues below advertisement
"We are so grateful that Wanda has gone public with the news of her cancer. Breast cancer is a very personal thing and most people don't come forward, so it was really an act of heroism," Cindy said in an exclusive interview with RadarOnline.com. "It raises awareness and sends a message to the public, 'If it can happen to me, it can happen to anyone.'"
Wanda says that the potentially deadly disease was detected while lab work was being performed after she underwent breast reduction surgery. Doctors discovered she had DCIS (ductal carcinoma in situ), a stage zero cancer. The comedienne opted for a bilateral mastectomy, or a double mastectomy, to head off any advancement of the illness.
"Do you want to wait and not be as fortunate when it comes back and it's too late?" Sykes said. "I was very, very lucky. I had the choice of, you can go back every three months and get it checked. Have a mammogram, MRI every three months just to see what it's doing. But I'm not good at keeping on top of stuff. I'm sure I'm overdue for an oil change and a teeth cleaning already. I have a lot of breast cancer history on my mother's side of the family, which I didn't know about."
Article continues below advertisement
Geoghegan thanks Wanda for going public with her battle, stating that she believes it could help thousands of other potential victims. "It expands the breast cancer dialogue-usually it's about mammograms, genetic history, age, etc, but now people are learning it can be detected by going in to get a breast enlargement or reduction," she says. "October is all about Pink, but it's really about people. It was very brave of Wanda to come out and share her story, and there's no telling how many people will detect their cancer when it's still in the early stages because of Wanda has helped raise awareness."
Actress Christina Applegate underwent the same procedure in 2008 after being diagnosed with breast cancer and testing positive for BRCA, the "breast cancer gene."
Not surprisingly, Sykes has maintained a refreshing outlook. "How many things could I have? I'm black, then lesbian," she joked. "I can't be the poster child for everything! At least with the LGBT issues we get a parade, we get a float, it's a party. I was real hesitant about doing this because, I hate walking. I got a lot of walks coming up!"