Tucson GOP Raffling Off Handgun, Just Nine Months After Arizona Shootings Left Six Dead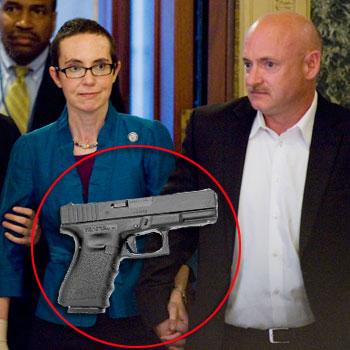 Just nine months after the horrific shootings in Tucson, Arizona, the local branch of the Republican party are planning to raise money by raffling off a Glock handgun, the exact same model that was used that fateful day.
The shootings on January 8 left six people dead, including a federal judge and a nine-year-old girl, and Democratic Rep. Gabrielle Giffords battling for her life.
The Arizona Republic reports that the choice of raffle prize has enraged some locals, who have been slamming the idea as being "insensitive and stupid."
Article continues below advertisement
Jeff Rogers, Pima County Democratic Party chairman, claims that the raffle shows "incredibly poor judgment."
Meanwhile, Republic columnist Linda Valdez blogged: "Are there any rational adults left in Tucson's GOP? Maybe. Get a magnifying glass."
However, Pima County GOP chairman Mike Shaw, is quick to defend the decision — pointing out that Giffords has always been a strong 2nd Amendment advocate and that she actually owned a Glock herself.
"That Glock is no more responsible for those deaths and the congresswoman's injuries than a No. 2 pencil is responsible for cheating on a test," Shaw told the Republic.
That doesn't fly for a lot of people though -- state Democratic spokeswoman, Jennifer Johnson asks: "How hard would it be to raffle off concert tickets or a dinner?"
RELATED STORIES: