Bikini Wars! Sexy Stars Who Have Shared Lovers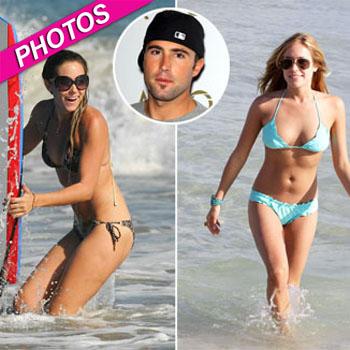 RadarOnline.com Style & Beauty Editor
Jennifer Aniston and Angelina Jolie aren't the only smokin' hot bikini babes in Hollywood who have shared a lover!
It is the ultimate battle of the fittest when the sexiest stars battle it out over Hollywood's hottest hunks -- only this time, it's nothing personal -- it's all about their bikini bodies! RadarOnline.com has all the sexiest stars who have shared lovers pitted against each other in a special bikini wars feature.
Article continues below advertisement
Everyone knows that Kate Hudson and Cameron Diaz love to play the game of love -- especially when it comes to baseball's biggest slugger! Both the big screen bombshells have hit it off with New York Yankee Alex Rodriguez, though Cam's stats with the pro baller are a tad bit better.
Lindsay Lohan and Brooke Hogan have more in common than their boobilicious bikini bods -- both the sunbathing beauties have dated Backstreet Boy Nick Carter's little bro Aaron!
And Gisele Bundchen and Bar Refaeli both compete for the top modeling jobs, as well as Hollywood's hottest hunks. Both babes have Leonardo DiCaprio on their ex lists!
What other bikini babes have shared lovers and who will survive the battle of the bikini body fittest? Click here to find out.