Just Like Mommy! Shiloh Shows Off Her Tattoos While Out With Angelina Jolie And Zahara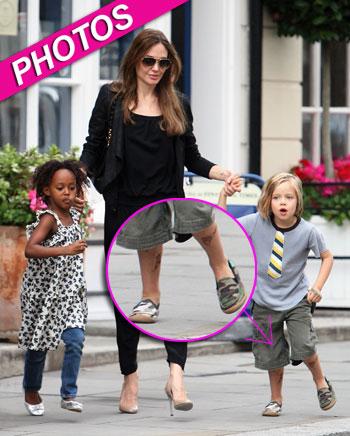 Shiloh looks just like her dad, Brad Pitt, but when it comes to decorating her body, she's just like mom, Angelina Jolie!
The tomboy-dressing five-year-old was spotted out and about with her mom and her big sister, Zahara on Thursday and she was showing off an array of (temporary we hope!!) tattoos.
The three girls were making the most of their time off in London, while dad Brad films his new zombie flick World War Z, to fit in a little shopping – stopping off at boutique, La Stupenderia Milano.
Article continues below advertisement
Shiloh, dressed as uniquely as ever, in a T-shirt with a yellow and blue striped tie painted on, and long shorts, looked cute as a button, following in heavily-inked mom's footsteps with tattoos stuck on her shins and her left hand.
Angelina has spoken with pride about Shiloh's sense of style, slamming those that choose to criticize the little girl. "I think she is fascinating, the choices she is making," Angie told Reuters. "And I would never be the kind of parent to force somebody to be something they are not. I think that is just bad parenting.