Oscar De La Hoya: 'Being Honest With Myself Has Set Me Free'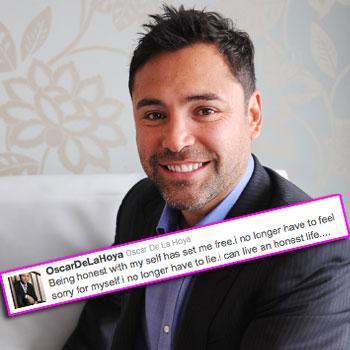 By Amber Goodhand - Radar Reporter
Boxer Oscar De La Hoya is used to taking a beating in the ring, but the 38-year-old admits he has his own battle to fight and is making great strides in coming clean with the public and himself.
"Being honest with my self has set me free.i no longer have to feel sorry for myself.i no longer have to lie.i can live an honest life...." De La Hoya wrote on his Twitter account Thursday morning.
Article continues below advertisement
"And now it's time to make amends with the people who really love me and care for me.it's never to late we can do it.god bless."
PHOTO: Tiger Woods' New Girlfriend Mug Shot
De La Hoya has been in a rehab center since May for alcohol abuse, and through his therapy at the treatment center, has admitted some shocking things — such as cheating on his wife and revealing that scandalous photos taken of him in drag, are in fact him.
When the photos first emerged in 2007, the boxing legend denied that it was him and attributed it to a "bad photoshop job."
This week on the Spanish news show Here and Now, De La Hoya said: "Let me tell you, yes, yes, it was me in those pictures.
"I am tired now of lying, of lying to the public and of lying to myself."
RELATED STORIES:
Oscar De La Hoya: Yes, It's Me Dressed In Drag