Meet The Mexican Vampire Woman!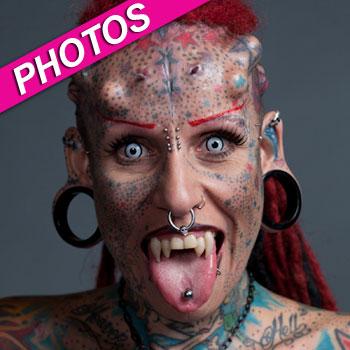 Who says lawyers are conservative?
Maria Jose Cristerna has certainly done her part to battle that stereotype, subjecting herself to a full body vampire make over, and RadarOnline.com has photos of her shocking transformation.
Maria's new look comes complete with fangs, horns, a bevy of piercings, and tattoos that cover her entirely. Her look is so amazing and unique, that Maria will now be immortalized in wax by museum Ripley's Believe It or Not.
Article continues below advertisement
So, what inspired the drastic change? The 35-year-old mother-of-four decided to turn over a new leaf after suffering domestic violence at the hands of her ex, and it's unlikely the perpetrator poses much of a threat after seeing Maria's overhaul!
She believes the vampiric get up provides a sense of strength and has helped her start a new life.
In total, Maria has titanium implants in the shape of head horns, huge ear-stretching plugs, teeth shaved into the shape of fangs, head to toe ink and bright blue contact lenses.