Lindsay Lohan Gatecrashes Party; Confronts Ex-Wife Of Rumored New Boyfriend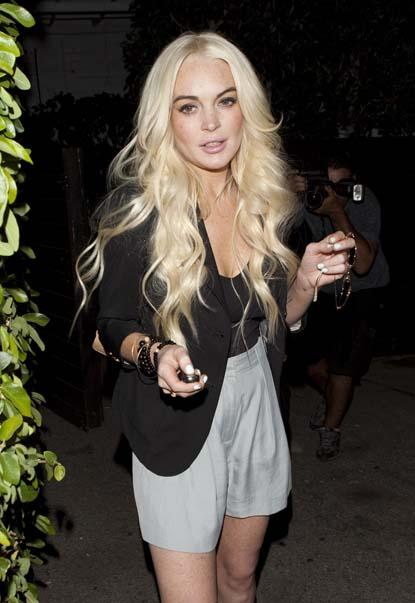 by RadarOnline.com Staff
Handbags at dawn!
Lindsay Lohan crashed a dinner party thrown by the man that is rumored to be her latest boyfriend in order to confront his estranged wife, according to reports.
The Mean Girls star has recently been spotted kissing Dream hotel owner Vikram Chatwal at his home in New York but was unimpressed when Priya Sachdev arrived from India with their daughter and Lindsay was determined to make it clear that she is the main woman in Vikram's life.
Article continues below advertisement
A source who witnessed the incident told the New York Post: "Lindsay found out Vikram was hosting a dinner at the Dream, and turned up with a friend at the hotel's Electric Room, waiting for him. That's when the trouble started. Priya was very dignified, but Lindsay was so rude. She acted as if she'd had no idea Vikram was married, and tried to make it clear that Vikram was her friend. Others had to step in to calm things down."
Lindsay has been staying at Vikram's house and is believed to have even moved her hairdresser in.
However, she was told she had to leave a few days ago before Priya returned to the US top avoid any unpleasantness.
Lindsay Lohan Hurls Glass At One Photographer & Throws Drink On Another
The source added: "Vikram's father Sant Singh has tried to order Lindsay out numerous times. Vikram's family worry that Lindsay is bad news and want him to stay away from her."
Article continues below advertisement
Vikram and Priya married in a lavish seven-day ceremony in 2006 and although they later separated, the pair have remained close.
Lindsay's representative Steve Honig has denied the actress and Vikram are romantically close, saying: "Vikram and Lindsay are good friends, and there is absolutely no romance going on between them."
RELATED STORIES:
Lindsay Lohan Ignoring Advisers Telling Her To Do Community Service