Jennifer Aniston & Justin Theroux Splash Out $450K For Painting At Haiti Fundraiser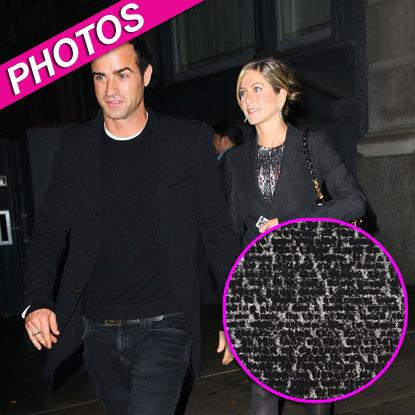 Jennifer Aniston and Justin Theroux splashed out $450,000 for a painting at Christie's Artists For Haiti fundraising auction in New York City Friday night, and RadarOnline.com has details of their pricey purchase.
The painting, by American artist Glenn Ligon, is called Stranger #44, measures 72 x 60 inches and is an abstract work of oil, charcoal and graphite on canvas.
The painting was estimated to fetch between $150,000 - $200,000, but bighearted Jen upped the ante, topping the record for an amount paid for a Ligon painting.
Article continues below advertisement
The black and gray painting should fit right in with the couple's love for all things monochrome. As usual both Jen and Justin were dressed in black, although Jen mixed it up a little with a white and gray pattern on her cute mini dress.
There was a high profile turnout for the event, along with Aniston and Theroux, Bill Clinton, Sean Penn and Ben Stiller also made an appearance.
It total, the event raised a whopping $13,662,000, with all proceeds expected to benefit the health and education initiatives in Haiti.