Who's That Hottie? Guess The Bikini Babe By Their Body!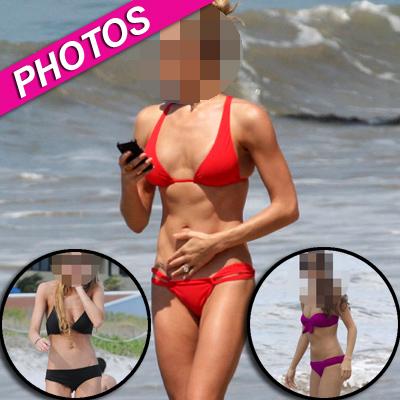 RadarOnline.com Style & Beauty Editor
How well do you know the bikini bodies of Hollywood hottest stars?
RadarOnline.com is putting you to the test with this special photo feature showcasing the sexiest sirens on the beach, stripped down into the skimpiest swimsuits -- but here's the catch -- all you have to go by are their hot bodies and a few hints.
This reality star's awesome assets are some of the most talked about in town, and she loves to show them off in barely-legal g-strings and tiny triangle tops. The bikini blonde also recently added "author" to her resume, publishing her first novel. See her bikini body and guess who she is by clicking here.
Article continues below advertisement
Since getting caught red handed with her smoking hot costar, this country cutie seems to be constantly surrounded by scandal -- usually involving her stick-thin figure. She loves tweeting sexy bikini pics of herself frolicking on the shoreline and when you don't find her on the beach, she is busy playing 'bonus mom' to her husband's kids. See her stripped down by clicking here.
And this Disney darling made waves over the summer, when she hit the beaches of Maui with her teenage beau. This bikini babe is smokin' hot, and she's definitely got "the fever". See her hot body and take a guess by clicking here.