Yikes! $1.5m Ferrari Enzo Crashes Into Atlantic Ocean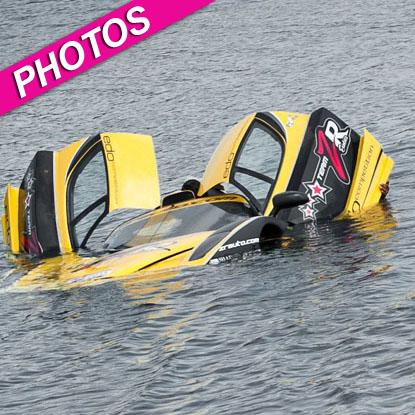 Most speed demons would love the opportunity to get their hands on Ferrari's fastest car.
But a driver had a very lucky escape yesterday after he crashed his $1.5 million Enzo model into the Atlantic Ocean after a racing accident in Canada.
Zahir Rana was driving the dream car in Canada's Newfoundland Targa road race when he span out of control.
But instead of settling on dry land, the 240 mph car skidded 180 degrees and flipped into the water. At one point the car was fully submerged in the ocean with only its gullwings showing.
Article continues below advertisement
Amazingly, Calgary supercar dealer Rana and his co-driver Roland Linder escaped from the underwater car without injury -- the vehicle, unfortunately, wasn't quite so lucky.
However, the car was able to be towed to safety after it drifted back to the shore. It suffered damage to the front bumper and wing but will be repairable after work on the electronics.
Zahir was accelerating after turning ninety degrees following a bridge crossing. He slipped on gravel and narrowly missed a boathouse before plunging into the water.
He explains: "My first thoughts were I love my Enzo and to me it's the best thing ever, but then I thanked God that I'm well and fine and it's only a car. It's not a big deal.
"With speed comes a little bit of risk and these things happen, it is OK. I love speed and I push to the max and this is what most race cars drivers do. I love every aspect of it and for me it is fine.
"How many race car drivers are out there, they have accidents, so does that mean they stop their career? No, we are going to come back and we are still going to drive and have fun with our cars. Cars give me pleasure.
Article continues below advertisement