AUDIO: David Arquette's Head-On Car Crash: Hear The 911 Call Here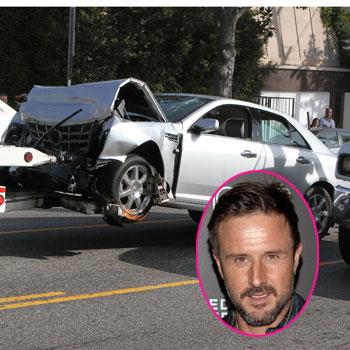 David Arquette was involved in a head-on car crash last Friday that left him in the hospital with "dragon's blood" running through his veins and RadarOnline.com has obtained the dramatic 911 call.
The 39-year-old actor was driving in his silver Cadillac in Beverly Hills when the crash occurred at the intersection of Elevado Avenue and Doheny Drive.
HEAR THE 911 CALL HERE
In the 911 call the caller is heard reporting details of the "head-on collision", telling the operator: "driver one got out of their car" and then: "second driver staggering out".
Article continues below advertisement
Thankfully both Arquette and the other driver were not seriously hurt. Both were taken to Cedar Sinai Hospital for tests but were released the same day.
"Luckily I have dragon's blood running through my veins," the Never Been Kissed actor wrote on his Twitter account, jokingly mocking fellow actor Charlie Sheen.
"I got into a car accident but I'm fine. Remember to wear your seatbelt – wish I was."
In photos of the wreck obtained by RadarOnline.com, Arquette's car appeared to have major damage to the front end, but he escaped with only minor head injuries.
He later tweeted: "Refused all pain medication-may the record state- still sober!
"It was a miracle the woman I hit was uninjured- Thank God!"
RELATED STORIES: