Ellen DeGeneres Used To Kick Her Mom's Boyfriends Out Of The House!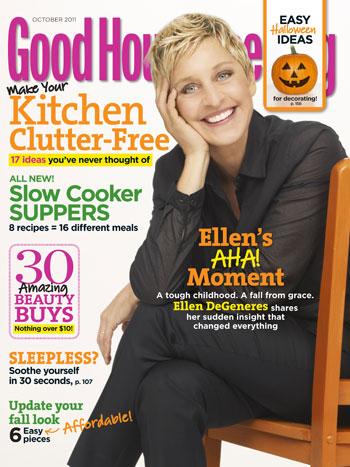 Ellen DeGeneres graces the October 2011 of Good Housekeeping, where the funny gal dishes on everything from kicking her mom's boyfriends out of the house when she was young to her religious upbringing as a Christian Scientist, to fame, fortune, happiness – and housekeeping, of course!
Before the issue hits the newsstands on September 13, RadarOnline.com is bringing you all of the interview highlights.
Article continues below advertisement
The talk show host was 13 when her parents split after almost 20 years of marriage and she admits she took on the parental role with her mom and had to get rid of some of the "horrible men" who came into their lives.
"My mom had some really bad things happen in her life, and she's a trouper. She's tougher than I am, I'd say. When my parents divorced, it was my mother and me, by ourselves in an apartment," she says. "At that point, we kind of became roommates. I was 13 years old. She'd been married for almost 20 years, and I watched her go through a tough time, trying to date, trying to figure things out. She dated some horrible men whom I had to kick out of the house.
"So, at 13, I kind of became an adult and was taking care of her … watching her struggle. It made me go, 'Oh, you're my mom, but you're just a human being.' I saw her in a different role all of a sudden."
While her childhood wasn't always idyllic, Ellen – who is married to actress Portia de Rossi – says she's never been happier than she is now. "I'm definitely happier than I've ever been," the 53-year-old says.
Article continues below advertisement
Ellen also tells the women's magazine about the role that faith plays in her life. "Faith is part of who I am, yes. I was raised Christian Scientist," she reveals. "The most important thing I saw every single week on the wall at Sunday school was the Golden Rule: 'Do unto others as you would have them do unto you.' That's what I got out of church and, to me, it's still the way to live."
No longer a member of the church, Ellen does admit that she still believes in a higher power. "I believe in God, and that there's a higher power and an intelligence that's bigger than us and that we can rely on. It's not just us, thinking we are the ones in control of everything."
It was that faith that helped Ellen get through more difficult times in her life, like when her sitcom was cancelled many years ago, which she jokingly compares to being like "a Ferrari in neutral."
"Now, when things don't work out, I try to go, OK, I guess I'm not supposed to do this particular thing."
When asked about household chores that she enjoys, Ellen admits that there is something she is not good at.