Same Sex Marriage Becomes Legal In NY -- Hundreds Rush To The Altar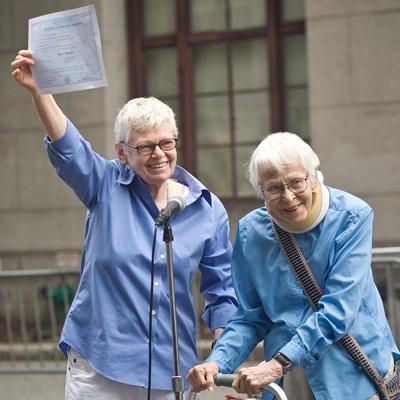 At just past the stroke of midnight Sunday morning, it became legal for same sex couples to marry in the State of New York, and hundreds of couples raced to be among the first to tie the knot.
Over 800 couples applied for licenses to be used Sunday in New York City alone, more than the city clerks could process.
On June 24 the New York state senate voted 33 to 29 in favor of legalizing gay marriage and the Governor signed it into law that night, with it going into effect July 24.
Article continues below advertisement
New York follows Connecticut, Iowa, Massachusetts, New Hampshire, Vermont and Washington D.C. in making same sex marriage legal.
Many celebrities voiced their excitement over the change in legislation including chat show host Ellen DeGeneres, who married Portia de Rossi in August 2008 after California legalized same sex marriage. Gay marriages were banned again in 2009 but unions that took place during the eight months it was on the books remain legal.
"I'm thrilled about the news from NY!" Ellen tweeted. "Marriage equality! Every day we get a little closer. What an amazing feeling."
Celebs Voice Support Of Prop 8 Being Overturned
Sex and the City star Cynthia Nixon is half of one of the many couples who will now be able to wed in their home state.
"My girlfriend and I have been engaged for more than two years and we had not made plans to get married anywhere else," the actress told Newsweek earlier in the week. "New York did us proud that night."