Conrad Murray Trial Recap: Michael Jackson's Children Cried When He Was Found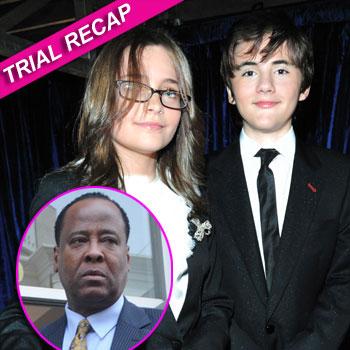 By Alexis Tereszcuk - RadarOnline.com Senior Reporter
The second day of testimony in the Dr. Conrad Murray involuntary manslaughter trial concluded on Wednesday with emotional testimony from Michael Jackson's former employees who detailed how his children handled the traumatic day that their father passed away.
In the Los Angeles Superior Court Jackson's head of security, Faheem Muhammed, said that the singer's two oldest children, Prince Michael and Paris stood in the doorway of their father's bedroom crying as Dr. Murray tried to revive their father on June 25, 2009.
Article continues below advertisement
He testified that Paris was "on the ground, balled up and crying" and her older brother Prince Michael was "shocked and slowly crying."
Muhammed said he moved the children away from the room. "I took them to a more secure location where they couldn't see what was going on," he said on the stand.
He said that Jackson's "eyes were open and that his mouth was slightly open," and when asked if he appeared to be dead he said "yes."
Muhammed also testified that Dr. Murray looked "nervous" and was "sweating."
Michael's personal assistant Michael Amir Williams described driving to the hospital with Prince Michael, Paris and, Jackson's youngest child, Blanket, behind the ambulance carrying their father.
"I took off my jacket and covered them up one by one, and took them inside the hospital. There were cameras everywhere," he said.
Article continues below advertisement
Williams also claimed that at the hospital, after Jackson had been pronounced dead, Dr. Murray panicked and asked to be taken back to the singer's house "to get rid of a cream that the world should never see."
The voicemail that Dr. Murray left for Williams before he called 9-1-1 was played in court and he was heard panicking: "Call me right away, please, please call me right away. Thank you."
Williams said that when he called Murray back two minutes later and he was not told to call 9-1-1 but instead told that he needed to come to the house immediately.