Exclusive
Author Says Conrad Murray Taped Michael Jackson 160 Times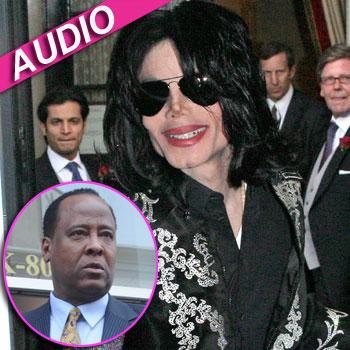 Article continues below advertisement
Jackson sounds heavily under the influence at the time of the recording on May 10, 2009 at around 9 a.m.,
"I want them to.. I've never seen nothing like this in my life. He's the greatest entertainer of all time. I'm taking that money, a million children, children's hospital. Biggest in the world. Michael Jackson's Children's Hospital," Jackson can be heard slurring.
Halperin, author of Unmasked: The Final Years of Michael Jackson, told RadarOnline.com: "He (Dr. Conrad Murray) has over 160 recordings of Michael Jackson, and this is just the tip of the iceberg, so get ready....He wasn't planning on using this in court. What he was planning in case Jackson turfed him, was that he would have all these recordings, get some sort of book deal, or release an album of it, and maybe top Thriller in sales. He is only motivated by one word and that is cash....there are no other motives...the only reason was he wanted to cover his tracks."
AEG lawyer, Kathie Jorrie who was handling Dr. Murray's contract for the This Is It tour, said on the witness stand Wednesday that under terms of the agreement, Michael Jackson could fire Dr. Murray at any time, without notice.
"Remember, he (Dr. Murray) wanted five million a year, and everybody got red flags..in case he lost his job, he was ready to release this publicly to get a book deal...and turn it into dollars," Halperin says.