Chuck Lorre's Latest Vanity Card: 'Something Inside Me Died'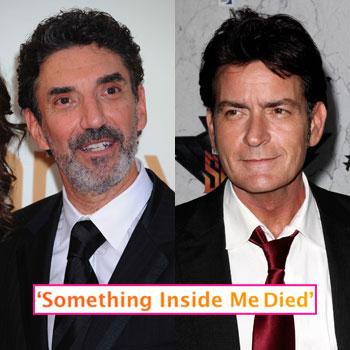 by RadarOnline.com Staff
On the same day Warner Bros. announced it had reached an agreement with Charlie Sheen over his $100 million wrongful termination lawsuit, Two and a Half Men creator and executive producer Chuck Lorre indirectly referenced his much-publicized battles with his former leading man in a vanity card following Monday's episode of his hit comedy.
Lorre has been known to use vanity cards -- the bumpers that air for a split second at the end of his shows -- to communicate his thoughts on the Sheen situation, particularly since the drama heated up earlier this year.
Article continues below advertisement
He posted the following in vanity card # 351: "Sometime last year I realized I had become the unwilling contestant in a reality show. I didn't understand the rules, wasn't sure if there even were any, and pretty much hated every second of it. For many months I kept hoping and praying that it would end. But it did not.
"Somewhere along the way, something inside me died. Anyway, now, suddenly, I'm being told that the reality show's been cancelled. Apparently, it was just one of those things that somehow got out of control. Sorry. Whoops. Live and learn. Moving on. Game over.
"And that's fine. I am so good with that. Yes, please, let's all move on.
"There's just one problem. That thing inside me that died? It walks at night. It's angry. It's hungry. And worst of all...it's writing a tell-all book."
We're pretty sure the tell-all book part is a joke, as the aforementioned agreement usually comes with gag orders, plus Sheen himself has shown a kinder, gentler side to his former bosses in recent weeks.
Article continues below advertisement