Chaz Bono Jokes To Jay Leno: 'I Think I Could Do Your Job Pretty Well!'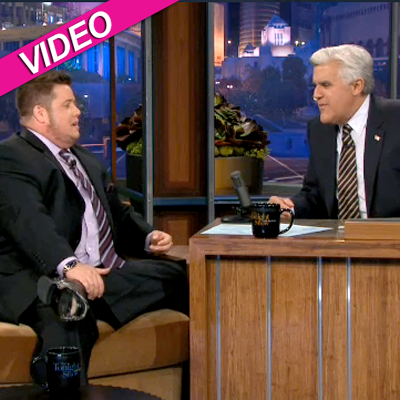 Chaz Bono could be heading for a career as a talk show host after his run on Dancing With The Stars is over!
The transgender activist appeared on The Tonight Show with Jay Leno Thursday night, and the conversation went from discussing 42-year-old Chaz's current job on the dance floor to what his future career aspirations are.
"What do you want to do after the show, I know your dad Sonny Bono was in politics, would you go into politics?" asked Leno.
Article continues below advertisement
"Probably not. It's hard, you get into the system, I talk to Mary (Bono Mack, his step-mom) all the time, you pick...you kind of have to stay with one party or another," explained Chaz.
"There's so much pressure, the partisanship right now there is so bad."
"Acting?" asked Leno.
"I would love to do that," replied Bono, who went to the New York City High School Of Performing Arts as a teenager with Jennifer Aniston.
"But you're not going to get a real job are you?" asked the Jay, adding, "Never get a real job."
Chaz then joked: "I think I could do your job pretty well!"
Aching Chaz Bono Gets Night's Lowest Score On DWTS
Jay seemed to like that idea and said encouragingly, "Give it a shot! I would watch that."
Earlier in the interview, the talk show host broached the more serious topic of the criticism Chaz has received as the first transgender contestant on DWTS.
Article continues below advertisement
"You've gotten some criticism. What do you say to these morons, one guy said: 'Well, watching Chaz on the show, your kids are going to want to change their gender.' How do you deal with that? What do you say?"
Chaz Bono's DWTS Premiere Prompts Both Outrage And Support From Opposing Groups
Unfazed, Bono replied, "I kind of just let it roll off my back, obviously if you don't have gender dysphoria you're not going to watch me and want to change your sex.
"But I also look at the value for people and kids who are dealing with that, if I had seen someone like myself on TV when I was growing up it would have made all the difference in the world for me," he went on to say.
"There really was no one, was there?" asked Jay.
Belly Dancer! Chaz Bono Dares To Bare On DWTS Set
"No, nothing," replied Chaz.
Despite getting the lowest score from the judges on Monday, Chaz survived Tuesday's results show to dance another day, as George Clooney's ex-girlfriend Elisabetta Canalis got sent home.