'Eddie Munster' Makes First Music Video In 20 Years: 'It's Only Halloween'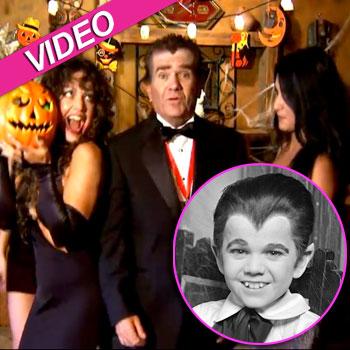 By Amber Goodhand - RadarOnline.com Reporter
Happy early Halloween from Eddie Munster himself, Butch Patrick!
Star of the 1960's TV hit The Munsters, Butch has been sober for nearly a year now and is celebrating by releasing his first music video in 20 years, It's Only Halloween, and you can see it on RadarOnline.com.
"With children playing trick-or-treat you recognize no one you meet, don't be afraid, it's only Halloween," Butch sings, dressed as his infamous Munster character.
Article continues below advertisement
"Wind is whistling through the trees a weird and eerie tune, and if you look real close you see a mask on Mr. Moon. The sweetest girlies wear a scowl and even little puppies howl. Don't be afraid, don't be afraid, don't be afraid, it's only Halloween!"
The video features Butch throwing a big party in his haunted castle, but partying is the last thing he's up to these days.
The 58-year-old just celebrated nine months of sobriety after completing a stint in an Orange County, Calif. rehab facility earlier this year and his rep told RadarOnline.com that he's been keeping busy with new projects "to keep on the sober path for the future."
"The reason Butch made the video was that about 25 years ago he had the first ever privately shot video that aired on MTV called What Ever Happened To Eddie? and it became a cult classic," Ethan Tudor, an actor and friend of Butch's exclusively told RadarOnline.com.
"Now that he's sober and clean...he shot the video last week in New Jersey."
Butch was diagnosed with prostate cancer earlier this year but sources close to him tell us he won't give up without a fight!
Article continues below advertisement
"He's going in for prostate surgery on September 19th," Ethan said. "He's got one of the best doctors in the world and he's confident he'll come out feeling like a million bucks!"
Watch the video on RadarOnline.com below: