Exclusive
EXCLUSIVE INTERVIEW: 'Eddie Munster' Relapses & Nearly Overdoses On Drugs, Says Agent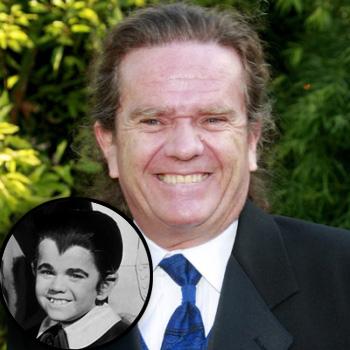 The former child star who played Eddie Munster on the 1960's TV sitcom The Munsters checked himself out of a New Jersey rehab facility, but nearly overdosed days later, RadarOnline.com has exclusively learned.
Butch Patrick, 57, has now entered a rehab in Orange County, California, after prompting from friends who desperately want him to beat his 40-year addiction to cocaine and alcohol.
"He not only continued with drugs and alcohol after checking himself out of rehab, but started to black out and make rash decisions while under the influence causing him to nearly overdose last Thursday evening," Butch's agent Jodi Ritzen told RadarOnline.com.
Article continues below advertisement
"Within 24 hours of his near-death experience, the producer of Butch's show, John Rose, made arrangements to get him to Los Angeles."
Halloween Head Turner! Eddie Munster Is All Grown Up
Ritzen said his family met him at the airport in Los Angeles on Friday and an intervention ensued with them, Rose, the writer of his show Tony Guma and Ritzen.
"Butch is uninsured, but they were able to check him into an Orange County facility after they offered him free treatment," Ritzen told RadarOnline.com.
"His situation is so dire that he was given a scholarship estimated to be worth $25,000 per week for his treatment."
Ritzen said Patrick was "shaken and emotional" as he headed to the treatment facility where he will remain for a minimum of 30 days with seven days in detox.
"I can only hope that fans understand the severity of Butch's problem and will continue to show their support for him through all of this," Ritzen said.
Article continues below advertisement
"I would rather have Butch meet with fans clean and sober then take the chance of him winding up dead."
Ritzen noted that with the amount of alcohol and drugs that Patrick was consuming, especially having only one kidney, he is lucky to be alive.
"This is the first time that Butch has admitted to having a real problem and needing to get help," Ritzen said.
Patrick plans on staying in California after he cleans up, continuing his doco-drama A&E show Life's A Butch, doing some voice over work and maybe some radio.