Britney Spears Under Fire For 'Criminal' Video Shoot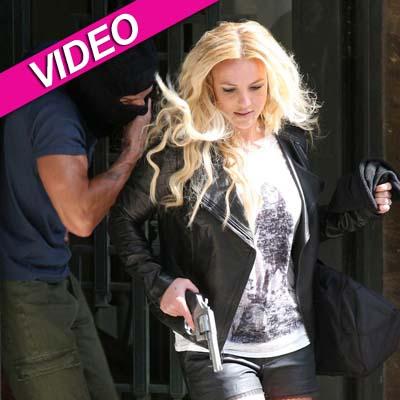 Britney Spears has found herself in the crosshairs with British officials for her new video Criminal.
In the controversial music video, Spears and her real life fiancé Jason Trawick rob a store at gunpoint. The slick, high-concept video, shot in Stoke Newington in the UK, features close ups of Britney wielding a pistol while Jason runs alongside her, and the local government is not amused.
Article continues below advertisement
The powers that be are blasting the pop star for the shoot's lawlessness and weapon wielding.
"I think she should apologize and make a sizeable donation to a Hackney charity that deals with young people..." Councilor Ian Rathbone, of the Hackney Council "for the rudeness and damage she's done to this community."
The Council itself told the ITV news program London Tonight: "In this case we did not agree that a replica gun could be used at Stoke Newington Town Hall and we are disappointed. We will be raising this matter with the production company."
"It is only a music video, but it's images like this, with pop stars glamorizing gangs, which means that some young people ... get drawn in," Hackney's Member of Parliament, Diane Abbott, added. "Britney should really know better."
The video was seen as highly insensitive by Stoke Newington representatives, considering the town was subjected to massive riots earlier this year, and seek an apology from Spears.