All The Pregnant Ladies! Beyonce Music Video Spoof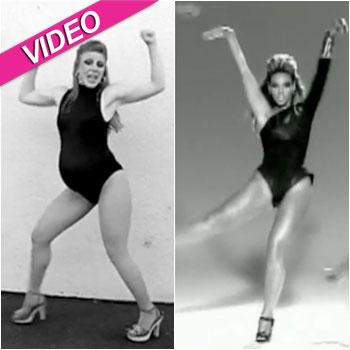 Is this what Beyonce has to look forward to?
Expectant mother, Alaine Kashian, spoofed Beyonce's Single Ladies video and it couldn't be more appropriate now that the 29-year-old singer has announced she's pregnant with her first child.
Check out the hilarious video on RadarOnline.com!
Clad in a black leotard and high heels, Kashian is agile at 38 weeks along, singing and gyrating to Beyoncé's famous music video and does a pretty good job with the dance moves despite her huge baby bump.
Article continues below advertisement
The red head's version of the the song is called All The Pregnant Ladies and her lyrics reflect her mood swings and cravings with comical quips that any expectant mother would relate to.
"All the pregnant ladies, now put your feet up," she sings and then goes on to detail all her ailments in the video that was made before Beyonce revealed she was expecting.
"Sitting in the tub, coffee in my cup, no caffeine in the thing. Pain in my hips, now you're gonna trip, cause you can't have sex with me. Don't have a lap, can't take a crap, how about water retention. My urine leaks, for 40 weeks, but you can't be mad at me."
Meanwhile, the original hit maker and her hip hop husband Jay-Z have been inundated with gifts since sharing their happy baby news.
After her appearance at last Sunday's MTV Video Music Awards where she debuted her adorable little bump, insiders say the couple has received tons of messages and presents from their celebrity friends.
Rihanna, Oprah Winfrey, former Destiny's Child band mates Kelly Rowland and Michelle Williams have reportedly all sent congratulatory gifts.
Article continues below advertisement
"Her phone hasn't stopped ringing. She's received dozens of bouquets of flowers, teddy bears, fruit baskets, you name it," an insider told OK! magazine.
"She and Jay wanted to focus on their careers and enjoy the first years of their marriage. Now, with everything so perfect in both those regards, she can't wait to be a mom."
Earlier this year, Beyonce spoke of her desire to settle down into being a wife and mother.
"Now I'm a woman, and because I gave it my all, I can focus on my marriage," she said. "I can decide I want to have kids. I can be the mother I want to be and dedicate myself to my children."
Watch the video on RadarOnline.com below: