Kanye West Wants To Be Godfather To Beyonce & Jay-Z's Baby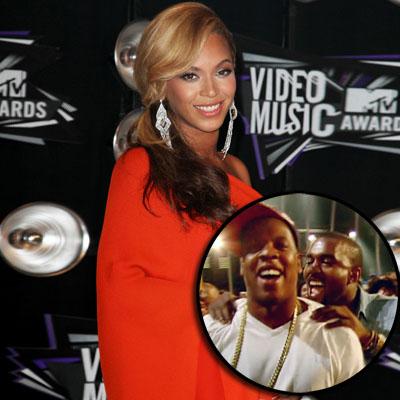 It's a good gig -- and Kanye West is confident he'll be godfather to Beyonce Knowles' baby.
The rapper/producer has told friends how excited he is about his close friend's pregnancy -- her first child with her husband Jay-Z -- because he thinks he will play a key role in its upbringing.
A source told The Sun newspaper: "Kanye is as excited about the baby as Beyonce and Jay-Z.
"He's been saying he's going to be godfather and is absolutely thrilled. It will be a huge honor for him."
Article continues below advertisement
Beyonce announced she was pregnant at the MTV Video Music Awards on Sunday, by posing for photographs clutching her baby bump.
Although she didn't give any details about when she's due, RadarOnline.com has exclusively learned that she's three months along and she's due in February.
Jay-Z and Kanye performed their new single Otis together at the awards, then Beyonce also sang, rubbing her bump at the end of her performance, while Kanye patted her husband on the back.