Angelina Jolie Takes Maddox Flying In England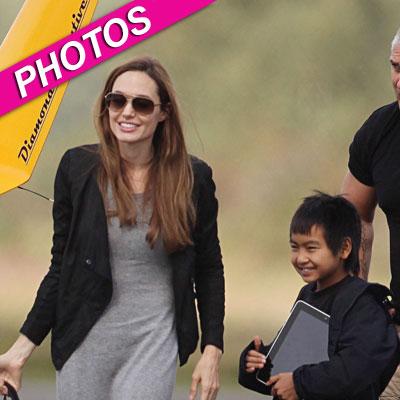 by Radar Staff
Most kids have to be content with their mom taking them to the zoo, or a trip to the park.
But Angelina Jolie's son Maddox had an awesome play date Friday when he went for a flying lesson with her in England, and RadarOnline.com has the pics.
Brad has said recently that he's happy that he chose Angie as the mother of his children and you can see why.
She was all smiles as she got in the cockpit of the small plane to undertake one of her favorite activities and son Maddox looked excited to be tagging along.
Article continues below advertisement
The 10-year-old got cozy in the back seat of the small plane at Blackbushe Airport in Surrey, while his mother took the reins with an instructor by her side.
She wore a grey maxi dress, black jacket and her very apt aviator glasses.
In case he got bored, or a little nervous, while being flown around the skies above southern England, Maddox brought his iPad along to keep him occupied.
But he didn't need to worry as he was in safe hands with his mom. The Oscar winning actress got her pilot's license back in 2005 and has been a regular flyer for years.
Her daughter Shiloh, five, has also been on a flying trip with Angelina – she got to ride with her on a small aircraft in Los Angeles last year.
Brad said in his recent controversial Parade magazine interview that he's glad he chose the adventurous actress to be the mother of his children.
"One of the greatest, smartest, things I ever did was give my kids Angie as their mom," he gushed. "She is such a great mom. Oh, man, I'm so happy to have her."
Article continues below advertisement
Meanwhile, Jolie has placed 12th in a list of 54 of the world's most visible leaders and public personalities.
The Reputation Institute bases its rankings on how much someone is liked, respected, admired and trusted.
Nelson Mandela, Roger Federer and Bill Gates were in the top three positions.
RELATED STORIES:
Angelina Is Wasting Away! Jolie Looks Scary Skinny In London