Amanda Knox Shaken In Court When Called A 'Liar' & 'Satanic She-Devil'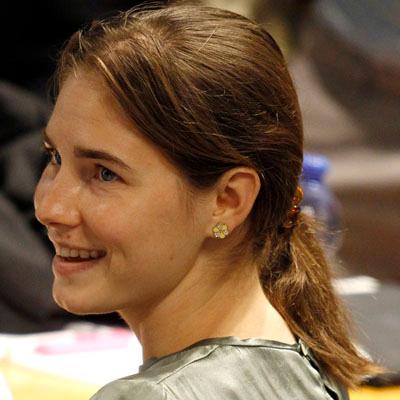 by RadarOnline.com Staff
American exchange student Amanda Knox was visibly shaken during her appeals trial in Perugia, Italy Monday when an attorney called her a "liar" and a "satanic, diabolic she-devil."
During the hearing, Knox, 24 ,buried her face in her hands as the group of civil lawyers attacked her character as she appeals her conviction for the sexual assault and murder of her British roommate Meredith Kercher.
Article continues below advertisement
One of the most chilling statements came from Carlo Pacelli, a lawyer representing Diya 'Patrick' Lumumba, a Congolese man who owned a bar where Knox worked part-time, reported ABCNews.com.
During her initial statement following the murder, Knox implicated Lumumba by telling police she had a vision that he was present during the killing of Kercher. The statement was later thrown out by the Italian Supreme Court.
According to Pacelli, the statement destroyed Lumumba as "a man, father and husband," and the lawyer called Knox a "liar" and said: "The gapless evidence is proof of her guilt."
The attorney went on to say that Knox is not "the daughter everyone wants," she has a "double soul... on one side angelic," but on the other side "satanic, diabolic."
Knox naturally looked visibly shaken as her character was torn apart by the attorney, and kept her head lowered during his assertions to the court.
Article continues below advertisement
Reuters.com reported that Pacellei described the alleged murderer as "both Saint Maria Goretti and a satanic, diabolic, she-devil given to borderline behavior," referring to a Catholic saint associated with purity, young women and rape victims.
Pacelli urged the appeal court to look past the clean-cut American who sat quietly in the courtroom.
"Amanda should be judged based on her personality when the crime occurred in November 2007 and at that time she was a concentrated mix of sex, drugs and alcohol," he said. "We're not talking about the girl you're seeing today, who has been through four years of prison."
Despite being falsely implicated in the murder, Lumumba had calm words for Knox outside the courtroom.
"I ask for justice, not vendetta," said the Congolese man, reported ABCNews.com. "She is a great actress.... I know her better than most.
Article continues below advertisement
"I don't know if she was the assassin, but she lied because she needed time."
Prosecutors will continue their closing arguments Monday, and the defense will sum up its case later this week. Knox herself is expected to address the court in a final plea to win her freedom.
A verdict on whether to throw out her conviction is expected early next month.
Meanwhile, as RadarOnline.com previously reported, a close friend of the American exchange student says Knox can't sleep or eat properly as she awaits the court's decision.
Knox was one of three people convicted of sexually assaulting and murdering Kercher on November 1, 2007. Her body -- lying in a pool of blood, her throat slit -- was found the following day in the apartment she shared with Knox.
Knox was originally sentenced to 26 years in prison, while the prosecution is now seeking to make that a life sentence.