Amanda Knox Compared to 'Jessica Rabbit'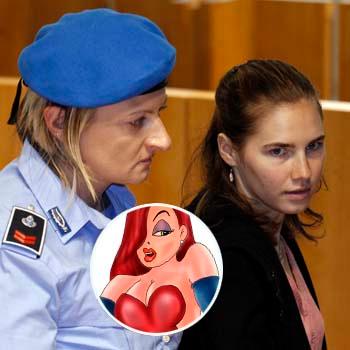 by Radar Staff
American exchange student Amanda Knox was compared to the cartoon character Jessica Rabbit in court in Perugia, Italy Tuesday, one day after she was labeled a "liar" and "satanic she-devil" by other lawyers during her appeals trial, which is finally coming to a close.
The lawyer for Knox's former boyfriend Raffaele Sollecito (who was also convicted in the sexual assault and murder of Knox's British roommate Meredith Kercher) spoke on Knox's behalf -- describing her as a young woman in love when jailed for the crime.
Article continues below advertisement
"Knox could be compared to Jessica Rabbit," said Giulia Bongiorno, the lawyer for Sollecito, said as part of the appeals trial's closing arguments. "She may appear to be a man-eater. In reality, she was a faithful woman in love."
Knox is "not bad, she's just drawn that way," Bongiorno added, referring to a famous line about the cartoon femme fatale made in the 1988 film Who Framed Roger Rabbit.
As RadarOnline.com has previously reported, Knox, 24, her then boyfriend, Sollecito, 27, and a drifter were all found guilty of murdering Kercher in November, 2007 during a sex game gone wrong at the apartment she shared with Knox in the hilltop Umbrian town popular with foreigners studying Italian.