Amanda Knox One Step Closer To Freedom -- Possibly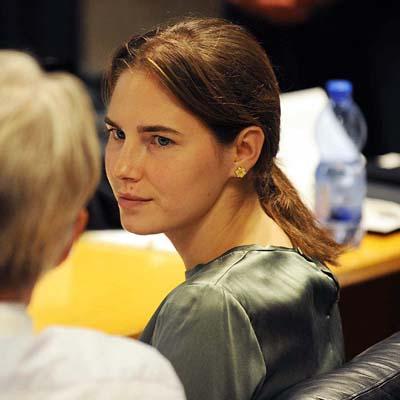 In a stunning development, an Italian court Wednesday rejected a prosecutor's request for new testing of crucial DNA evidence in the appeals trial of Amanda Knox -- raising hopes that the American exchange student could possibly be freed from prison within a month.
Knox, 24, was convicted in Italy of sexually assaulting and murdering her one-time roommate, British student Meredith Kercher, with the help of two other men. In December 2009, Knox was sentenced to 26 years in jail.
Article continues below advertisement
On Wednesday, the credibility of DNA evidence investigators originally collected in the case continued to come under fire; had the court allowed retesting of the DNA, Knox could have been held for many more months in custody as officials sorted through the new findings.
Prosecutors made the request in the wake of independent experts, appointed by the court, claiming the items submitted for DNA testing should have never been let in as evidence, based on how they were mishandled.
Amanda's father Curt Knox told ABC News Wednesday: "It is a hurdle that has been cleared. It tells me that the court believes what the independent experts are telling them."
On Tuesday, professors Carla Vecchiotti and Stefano Conti, two forensic experts called to the stand by Knox's defense, said in testimony that a bra clasp belonging to Kercher was "dirty" and "inadmissible" as evidence, leading to inconclusive results.
Article continues below advertisement
Patrizia Stefanoni, the Italian police forensic expert presiding over the DNA in the case, said Tuesday that the test of the bra clasp was carried out properly and to accurate results. When a video was displayed to illustrate how sloppy Stefanoni and her crew were in handling the evidence, some in the courtroom actually laughed out loud at the perceived ineptitude, despite Stefanoni stressing there was no contamination had occurred.
Curt Knox said he's "obviously happy and hopeful that she won't be spending too much more time in prison, but it's still up to the judges in court."
He added "the prosecution should be searching for the truth as opposed tom whose side is right."
Amanda Knox Appeals Hearing Delayed
A verdict in the appeals trial is expected to be handed down on Friday, September 23.
Even if her conviction is thrown out, Knox may not be in the free and clear.
Article continues below advertisement