Thugs Help Injured Boy In London Riots – Then Rob Him!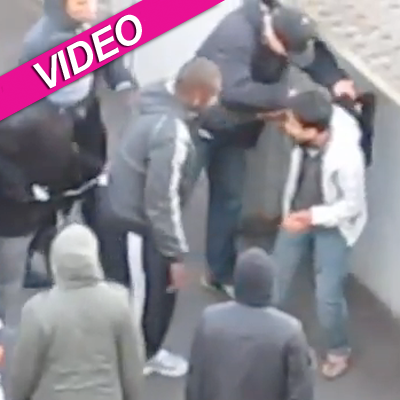 A shocking piece of videotape has surfaced on the web showing a badly injured boy -- being robbed -- on the streets of London, rocked by massive riots for the past few days.
The 75-second video was taped from above and shows the boy collapsed -- and bleeding -- on the pavement.
In the video, we see a man approach the boy and appearing to help him.
But that's when the video takes a shocking turn.
Article continues below advertisement
Watch the video on RadarOnline.com
After helping up the boy, the man, together with another thug, unzip the boy's backpack and then steals his belongings.
A third masked man then rides up on a bicycle and tries to steal more items from the boy's backpack while a fourth man, wearing a black baseball cap, walks up behind the boy and grabs what he can from his bag before strolling off.
It is not known who the boy is and whether he reported the robbery to police or even sought medical assistance for his injuries.
In its first 12-hours on YouTube, the video received more than 55,000 views.
The mob violence grew out of what started as a peaceful protest against the police in a north London district of Tottenham, where officers had shot and killed a 29-year-old father of four in an anti-firearms operation.
The riots have left one man dead and resulted in thousands of burned-out stores, businesses and residences.
Article continues below advertisement
Authorities were caught off guard by the unrest, with government leaders and city officials away on vacation. On Tuesday, Prime Minister David Cameron and London Mayor Boris Johnson returned to London to calm angry residents and businesspeople who complained that the leadership had been caught napping.
"We will do everything necessary to restore order to Britain's streets and make them safe for the law-abiding," Cameron said.
"To those responsible, you will feel the full force of the law, and if you are old enough to commit these crimes, you are old enough to take the consequences," he said after meeting with top security and police officials.
Some 16,000 police are on alert.