Police Shut Down Hollywood Boulevard After Film Fiasco Nearly Causes Riot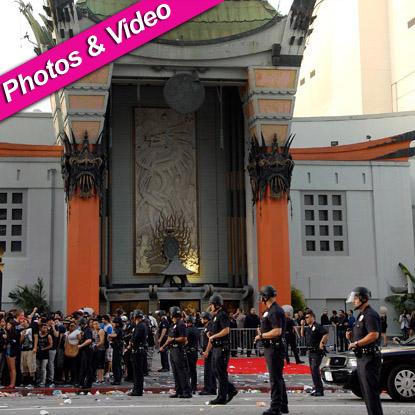 Police decked out in riot gear shut down Hollywood Boulevard Wednesday night, clashing with a raucous crowd after a screening of a documentary drew too many people to Grauman's Chinese Theatre, causing fire officials to partially evacuate the theater due to overcrowding concerns.
The estimated crowd of 2,000 -- beefed up by Twitter invites from a DJ known as Kaskade, who promised his 90,000+ followers a block party -- had shown up to a watch a rave-themed documentary called Electric Daisy Carnival Experience.
Article continues below advertisement
After fire officials emptied the theater, things took an ugly turn, as the crowd would not leave, Officer Karen Rayner told the AP.
"It all just got out of hand," witness Elvin Romero told the AP. "Police tried to clear them out, and that's when the trouble happened."
Some began cursing the police officers, while others pelted them with glass bottles, danced on their cars and engaged in planking: a Twitter-buoyed fad of lying down in the middle of the street.