PHOTOS: Biebermania -- Justin Bieber Greets Fans From Liverpool Hotel Balcony To Avoid Riot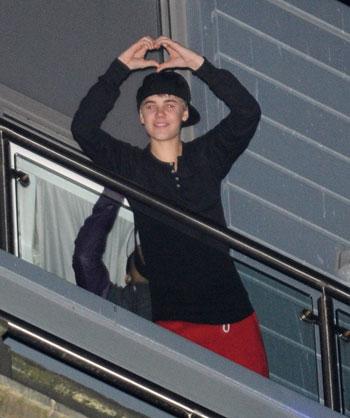 Move over Beatlemania – Biebermania has arrived!
Teen heartthrob Justin Bieber usually loves meeting his loyal fans but British groupies in Liverpool were far too aggressive for the young singer, forcing him to barricade himself in his hotel, and RadarOnline.com has photos of the near riot and the teen heartthrob as he greets his fans from above.
The Baby singer caused chaos in the northern England city when hundreds of screaming fans fought to get a glimpse of their idol after he checked into the Hard Days Night Hotel on Thursday, in a scene that was reminiscent of the hoards of fans that gathered in Liverpool during the height of Beatlemania in the 1960's.
Article continues below advertisement
Bieber and his entourage were forced to lock themselves into their swanky $1,200 night suite at the hotel and were reportedly warned by police that they could be charged with inciting a riot if they ventured out onto the balcony.
Outside, 500 groupies suffering from serious Bieber Fever chanted "We want Justin!"
Justin was planning to take a historical Beatles tour of the musical city but the obsessed throng spoiled his sight-seeing plans as 25 police officers battled to contain the volatile situation by closing the roads around the hotel.
The startled star tweeted about his scary situation earlier on Thursday: "There are like thousands of people out there. Love everybody but gonna try and get some sleep. Please don't scream lol"
And then "THIS IS CRAZY! Trying to work it out so I can say whatup to my fans. I LOVE YOU GUYS!"
The 17-year-old singer is due to perform at Liverpool's Echo Arena on Friday night.
RELATED STORIES:
Justin Bieber Says He Doesn't Believe In Premarital Sex Or Abortion