PHOTOS & VIDEO: Rioting Overtakes Vancouver After Hockey Heartbreak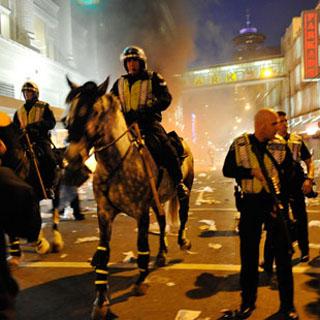 by RadarOnline.com Staff
Things got grisly in Vancouver Wednesday.
Following the hometown Canucks' 4-0 loss to the Boston Bruins in Game 7 of the Stanley Cup finals, jaded fans took to the streets and rioted for four hours until police were able to subdue them.
Among the reported carnage: four reported stabbings; cars (some of them belonging to police) and trashcans set ablaze; business front windows smashed to smithereens; and of course, looting.
Article continues below advertisement
"We have a small number of hooligans on the streets of Vancouver causing problems," Vancouver Mayor Gregor Robertson said following the riots. "It's absolutely disgraceful and shameful and by no means represents the city of Vancouver.
"What's happened tonight is despicable ... Vancouver is a world-class city and it is embarrassing and shameful to see the type of violence and disorder we've seen tonight."
Police spokeswoman Const. Jana McGuinness said, "You don't ever hope for a situation like this ... we will have to sit down and evaluate exactly what happened here. It's going to be a black mark for a very, very long time."
Watch the video on RadarOnline.com
Canucks captain Henrik Sedin told the AP, "This city and province has a lot to be proud of ... it's too bad."
Canadian sports heroes such as NBA star Steve Nash and legendary pro wrestler Bret Hart chimed in on their Twitter pages in the wake of the rioting.
Article continues below advertisement
Nash wrote: "Vancouver please stop burning s**t. We're a great city and have a lot of class. Our team is great and our championship will come. Soon."
Hart called the rioting "truly an embarrassment to those that love the game."