Exclusive
Teen Mom Jenelle Evans Back In Court September To Face Probation Violation Charges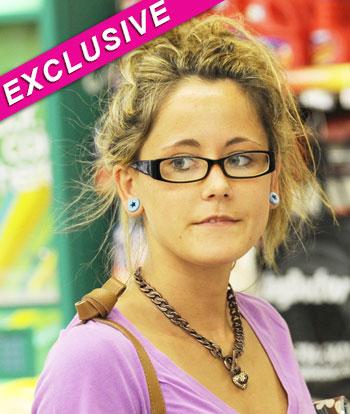 Troubled Teen Mom star Jenelle Evans has been granted a continuance in her probation violation case, RadarOnline.com has exclusively learned.
"The court date for her probation violation was continued until September 28th," Evans' attorney Dustin Sullivan told RadarOnline.com. "We are seeing if she is going to continue to do better, or if she does worse. She was not in court today and stayed in classes," he explained, adding that Jenelle is back in school and doing well.
Article continues below advertisement
As RadarOnline.com previously reported, the 19-year-old reality star was arrested on August 8 for violating her probation by allegedly using drugs and held in jail over night. She was taken to the Brunswick County Detention Center, North Carolina, the next morning and released on a $10,000 bond.
Evan's probation officer is monitoring her closely and she is being tested for drugs every Monday, explained Sullivan.
"Marijuana stays in the system for 30 days so if she smoked, she will test positive for four weeks in a row, so that's why we are giving it time to see how it goes," he said.
The incident in August is not the first time Evans has violated her probation. She was charged with assault in March after a fight recorded on video. A month later, she received 12 months of probation and community service for a drug paraphernalia charge.
Article continues below advertisement
The teenage law-breaker will be back in court in two weeks to deal with her unresolved assault case.
"Her next court date is September 9 for the fight video, this is a simple assault and will be a trial date," explained Sullivan. "We are expecting Britany Truett and Brittany Maggard (the two girls involved in the case) to be in court for this as well.
Evans, who first appeared on MTV's Sixteen and Pregnant before graduating to Teen Mom, has handed over custody of her son Jace to her mom, Barbara, and he is living with her in North Carolina.