Exclusive
'Poverty Stricken' Spencer Pratt and Heidi Montag's $5 Million Santa Barbara Hideaway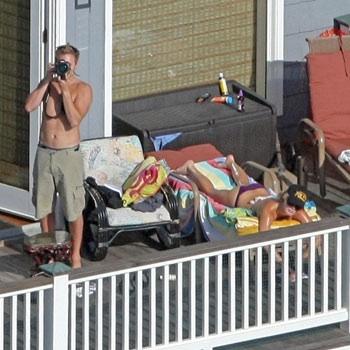 By Cliff Renfrew - RadarOnline.com Reporter
It's not a bad Plan B - that's the $5 million Santa Barbara beach house that fallen reality stars Spencer Pratt and Heidi Montag have been calling home for the past year.
The former stars of The Hills, who have been pleading poverty in recent interviews, have been holed-up rent free at the stunning property that is owned by Spencer's parents William and Jane.
It sits in a gated community of the ultra- rich enclave of Carpinteria where the once very public pair now live their lives in a much quieter manner.
Article continues below advertisement
A source told RadarOnline.com: "They may have blown through their cash but Heidi and Spencer are hardly slumming it are they?
"Spencer spends most of his time reading his wacky books while Heidi likes to tan herself on the deck.
"They occasionally hit the beach but Spencer always makes a sweep first with his binoculars because he is paranoid that spies are watching them.
"He even asked some paparazzi photographers that he used to work with if he could buy one of their long lenses so he could take some images for himself because he thought people were spying on them.
"Spencer did his best to keep their location top secret while they tried to get their careers back on track."
Property records show that Spencer's parents bought the stunning property in 1992 for $800,000 - the 3,000 sq ft home has four bedrooms and four bathrooms plus a large deck.
Despite the property slump the home is worth $5 million today and is used as a second home by Spencer's family.
In a recent interview with the Daily Beast the couple admitted their break-up, divorce petition and reconciliation was all staged to try and stoke fresh media interest in them.
Article continues below advertisement
Spencer revealed: "At that point we were pulling our last cards - we felt the hot air balloon losing its gas. And at that stage our income would be selling the photo that would go along with the divorce."
At the height of their fame the couple was earning a small fortune from staged paparazzi images that tabloid magazines could not get enough of.
But that money soon disappeared as Heidi spent a fortune on plastic surgery and an estimated $2 million on her ill-fated pop career while Spencer blew his cash on clothes, cars and a lavish lifestyle with a large entourage of male hangers-on.