Exclusive
EXCLUSIVE: Spencer Pratt's Next Big Career Move - Out On A Wing!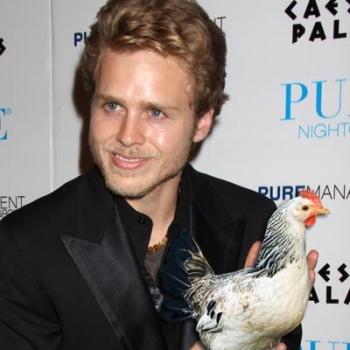 Spencer Pratt's next big career move, becoming the new KFC spokesperson, has been placed on the back fryer, while the fast food giant and the reality TV star iron out some legal disputes.
RadarOnline.com can exclusively report that it was all systems go for Spencer as KFC moved forward with their plans to use his music track Ain't No Thang But A Chicken Wing, as part of an upcoming ad campaign, but now a major spanner has been thrown in the works.
Article continues below advertisement
"Spencer had worked on the track with music producer Daniel Cortez and when Daniel heard about the talks between KFC and Spencer he lawyered up and contacted them immediately," a source close to the situation tells RadarOnline.com.
"He is disputing Spencer's ownership of the song and right to license it and until that issue is resolved KFC won't proceed any further.
"Spencer is not happy with the situation and is concerned that it's going to blow his whole deal.
"Spencer was under the impression that everything had been ironed out with Daniel, but now he's being told everything is on hold until Daniel receives a satisfactory contract proving his share of ownership regarding the track.
"He's concerned that this is going to totally jeopardize things and that KFC will pull out of the deal."
However, RadarOnline.com has learned that there is some good news on the horizon for the aspiring rapper and his many fans.
Article continues below advertisement